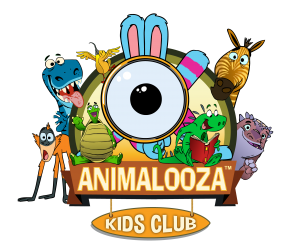 ANIMALOOZA KIDS CLUB is a monthly book, video and merchandise club founded by Emmy award-winning children's book author and producer Shane DeRolf. It includes animation, videos, songs and dances that educate while entertaining, making learning fun and bringing joy to families!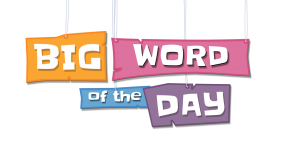 BIG WORD OF THE DAY
Developed by a team of teachers, children's book authors, Emmy award-winning producers and parents, BIG WORD OF THE DAY creatively teaches children important words they will need to succeed in life and school in fun and interesting ways…in less than one minute!
Developed from vocabulary lists from the Common Core and other leading resources, BIG WORD OF THE DAY will help children learn, spell and use one new "BIG" word every Monday-Friday, 52 weeks a year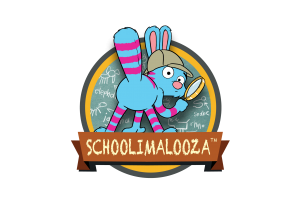 SCHOOLIMALOOZA is a program that provides FREE DIGITAL CONTENT to elementary schools 
 There are three components in SCHOOLIMALOOZA:

BIG WORD OF THE DAY is a series of 180 animated vignettes designed to creatively teach elementary school students one new "BIG WORD" every day of the school year. In less than one minute, students will hear the word being pronounced, see it spelled correctly and phonetically, hear it used in a sentence and watch as Detective Thing, the host of SCHOOLIMALOOZA, drives home the meaning in a short, entertaining skit that further demonstrates the use of the word in context.  The words selected for BIG WORD OF THE DAY contain Critical & High Frequency Words chosen from the Common Core and other leading elementary school vocabulary resources.
12 BRAIN BREAKS is a series of animated music videos and online dance tutorials designed to get kids up and moving. Our BRAIN BREAKS were inspired by Dr. John Ratey's best selling book, "Spark," that documents the connection between movement and academic performance.
Rights for elementary schools to perform our animated multimedia fundraiser, "Have You Seen My Dinosaur?" 
About the Founder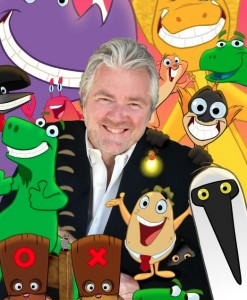 Shane DeRolf is an 11-time Emmy® award-winning writer, producer, director, narrator and composer and serves as CEO & Chief Creative Officer of Yesterday's Zoo LLC. Shane is also the founder & chief creative officer of Big Green Company, Inc., producers of the four-time Emmy® award-winning, two-time Webby award-winning and Parent's Choice award-winning public television series, Big Green Rabbit. Shane also served as the founder and president of Random House Entertainment, where he wrote the popular children's book, The Crayon Box That Talked and produced The Crayon Box, an original children's television series in national syndication. Shane is the author of 11 children's books, including Yesterday's Zoo, The Sea I See and The Crayon Box That Talked.